First here is the chart of Actresses and their relationship from this time.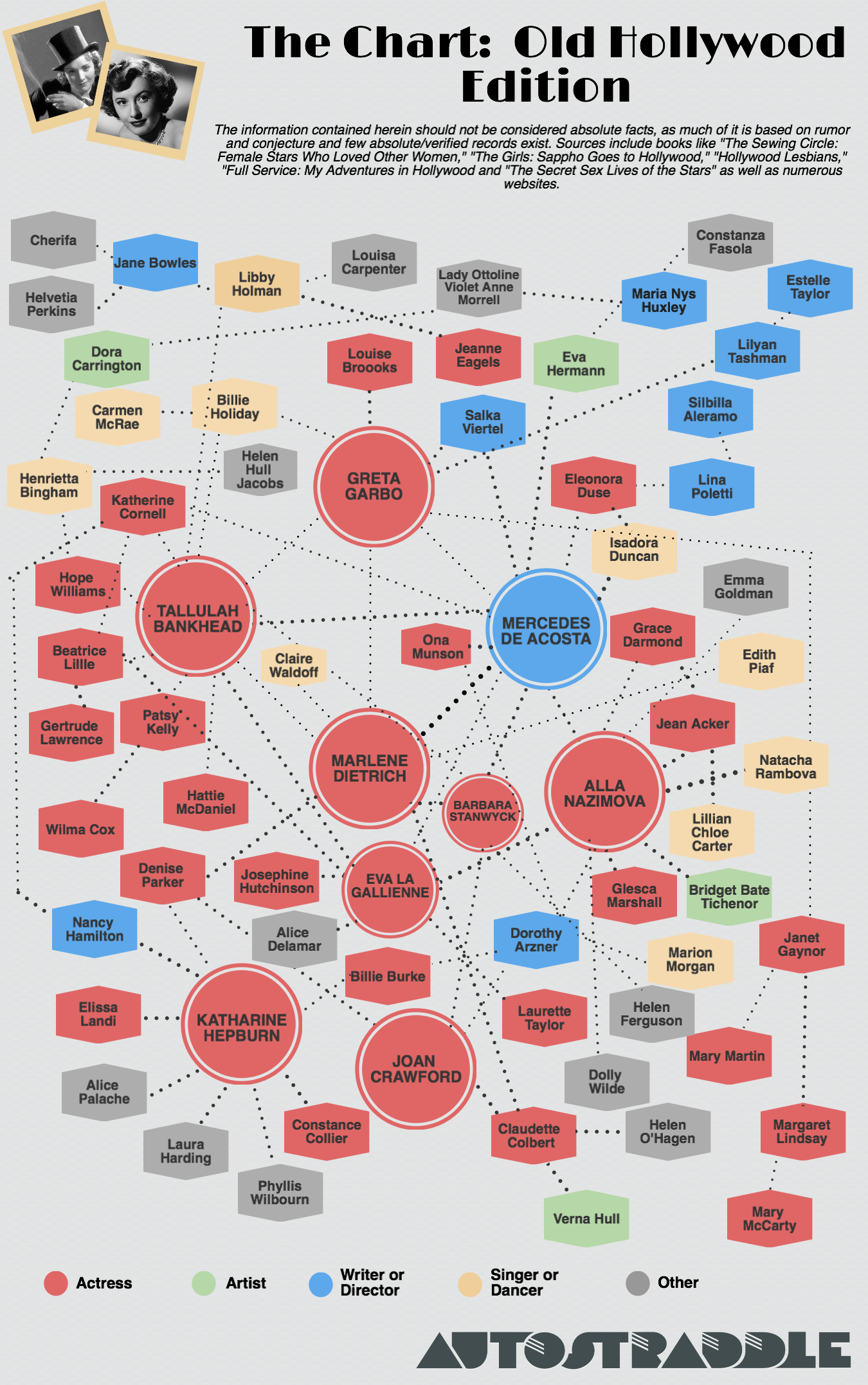 Tallulah Bankhead
Born: January 31, 1902     Died: December 12, 1968
What she did: Actress
Facts:
Tallulah was born on January 31 st , 1902 in Huntsville Alabama on her parent's second wedding anniversary. Her father was from a political family and active in the Democratic Party and became the Speaker of the United States House of Representatives.
Three weeks after Tallulah was born, her mother died from sepsis. This apparently ran in the family because Tallulah's mother's mother also died after giving birth. On her death bed, Tallulah's mother told her sister-in-law to take care of Tallulah's older sister but that Tallulah would always be able to take care of herself.
Tallulah was baptized next to her mother's coffin.
Devastated by the loss, Tallulah's father was largely unable to care for his children. They were primarilyraised by their paternal grandmother.
Tallulah was considered a homely child and overweight. Because of this, she was overshadowed by her traditionally attractive sister.
In an effort to get attention, Tallulah got creative. She learned to sing,
cartwheel, dance, recite literature, do imitations, and perform. When that didn't work, she threw epic tantrums and held her breath until her face turned blue. To combat these tantrums, her grandmother would throw a bucket of water on her.
As a child, Tallulah was sickly and had chronic bronchitis which resulted in a husky voice.
Later, Tallulah would say her first performance was for the Wright brothers when her Aunt hosted them at a party. Tallulah imitated her kindergarten teacher and won a prize, awarded to her by the Wright brothers.
As Tallulah and her sister got older, they were becoming harder for their grandmother to handle. So, in 1912, when Tallulah was 10, she and her sister were enrolled in a covenant school. Tallulah began to mature into a beautiful southern belle and while her sister married at 16 Tallulah decided to pursue an acting career.
When a magazine called Picture Play ran a beauty contest that would award winners a trip to New York and a part in a movie, Tallulah submitted her photo.
However, she forgot tosubmit her name and address with it. When the magazine announced the winners, they included Tallulah's picture with the tagline, "Who is she?"
Tallulah only found out she was a winner when she saw this in the magazine.
Winning the contest turned out to be a non-starter. She went to New York, had a minor part in the movie Who Loved Him Best and was paid $75 for the work.
However, she did fall in love with New York and decided to stay. She moved into the Algonquin Hotel which was the it spot for the artsy elite and found a home as a member of the Algonquin Round Table.

When Tallulah moved to New York, her father warned her to stay away from alcohol and men. She later 

remarked, "He didn't say anything about women and cocaine."
While partying with the Algonquin Round Table, Tallulah didn't drink, but she indulged in cocaine, and pot. She would say that "cocaine isn't habit-forming and I know because I've been taking it for years."
At parties, Tallulah would introduce herself saying, "I'm a lesbian, what do you do?"
It was this and her general quippyness that gained her the reputation as one of the great wits of Manhattan.
Tallulah had roles in a variety of silent movies and on the stage, including being in Footloose.
Despite being praised for her acting, nothing she was cast in really took off. After 5 years in New York, Tallulah decided to broaden her horizons and moved to London in 1922. When she left for London on the SS Majestic, a crowd of fans gathered on the pier to see her off.
Tallulah found success in London, appearing in a ton of plays and performing in They Knew What They Wanted, a show which won the 1925 Pulitzer Prize.
She gained a reputation for spinning straw into gold when it came to the plays she was in. She wrote of one instance where she saved a show from disaster on opening night. "In the second act, I came on carrying a monkey. On opening night, the monkey went berserk. He snatched my black wig from my head, leaped from my arms and scampered down to the footlights. There he paused, peered out at the audience, then waved my wig over his head. The audience had been
giggling at the absurd plot even before this simian had at me. Now it became hysterical. What did Tallulah do in this crisis? I turned a cartwheel! The audience roared. After the monkey business, I was afraid they might boo me. Instead I received an ovation."
Enjoying her success, she bought a Bentley and would drive around London.
Unfortunately, she was terrible with directions and would call a cab to find her when she got lost and have the driver lead her home while she followed in her Bentley.
After 9 years in London, Tallulah decided to take on Hollywood.
While in Hollywood, Tallulah hosted 'boundary free' parties. Probably to spice things up because she thought making movies was boring as hell. She once asked producer Irving Thalberg, "How do you get laid in this dreadful place?" Irving replied, "I'm sure you'll have no problem. Ask anyone."
Tallulah must have taken his advice because she was a very sexually liberated lady. She had relationships with many notable women including Greta Garbo, Billie Holiday, Alla Nazimova, Hattie McDaniel, and more. Tallulah also had romantic relationships with men and was married to actor John Emery from 1937 to 1941.
After their divorce, she told a reporter, "You can definitely quote me as saying there will be no plans for a remarriage."
When it came to talking about her sexuality, Tallulah was very open. She never used the word bisexual.
In 1931, Tallulah starred in a movie called Devil and the Deep in which she received top billing over Cary Grant, Gary Cooper, and Charles Laughton, which was kind of a big deal. However, Tallulah was looking for more than the $50,000 she was paid. She would say "Dahling, the main reason I accepted the part was to fuck that divine Gary Cooper!"
Unfortunately, Tallulah contracted a VD she claimed was from George Raft and had to have an emergency hysterectomy.
She almost died during the 5 hour surgery and weighed only 70lbs by the time she left the hospital. Before being discharged, she told her doctor, "Don't think this has taught me a lesson."
After recovering, Tallulah returned to Broadway. Then, a little movie called Gone with the Wind popped on the scene and Tallulah was one of the first choices for the leading role of Scarlett O'Hara. However, they felt that Tallulah at 36 was too old to play the role of 16-year-old Scarlett.

Tallulah was, however, offered the role of a sex worker in
the film, which she politely turned down.

Instead, Tallulah performed in the play The Little Foxes as the lead character, Regina.
Her performance won her Variety's award for Best Actress of the Year and was featured on the cover of Life magazine. Tallulah described it as "the best role I ever had in the theater."
When Bette Davis played the role of Regina in the film version, she modeled her performance after Tallulah's.
In 1944, Tallulah started in her most successful film; Alfred Hitchcock's Lifeboat. Her role in this won herthe New York Film Critics Circle award. When she accepted the award, she said, "Dahlings, I was wonderful!"
Tallulah was also politically active. She heavily campaigned for Harry Truman's 1948 reelection and is credited with significantly helping him get elected. She was even invited to sit with Truman during his inauguration.
Also in 1948, the Kinsey Reports were released. These were two reports on human sexuality; one devoted to male sexuality and the other to female sexuality. The Kinsey reports were pretty controversial as they expressed the idea of the sexual spectrum and of the female orgasm.

Tallulah remarked on the Kinsey Reports, saying, "I found no surprises in the Kinsey report. The good doctor's clinical notes were old hat to me. I've had many momentary love affairs. A lot of these impromptu romances have been climaxed in a fashion not generally condoned. I go into them impulsively. I scorn any notion of their permanence. I forget the fever associated with them when a new interest presents itself."

Tallulah's sexuality, and relationships with both men and women won her a place in the Hays Committee's "Doom Book," which was a list of 150 actors who were seen as immoral or unsuitable for the public.
Tallulah knew what was up because she called the code's namesake Will H. Hays, "a little prick." Tallulah was listed at the top of the Doom Book under the heading "Verbal Moral Turpitude."
Though she was living an intense lifestyle which consisted of heavy drinking, sleeping pills, sexy finger quotes 'scandalous' relationships, and 150 cigarettes per day, Tallulah continued performing through the 50s and 60s. She was in movies, plays, on television, and the radio.
One of her later notable performances was as Blance DuBois in A Streetcar Named Desire. She was tight with Tennessee Williams. However, her performances were originally too campy and Tennessee Williams said she was "the worst I have seen."
Tallulah revised her performance and Tennessee Williams said, "I'm not ashamed to say that I shed tears almost all the way through and that
when the play was finished I rushed up to her and fell to my knees at her feet.
The human drama, the paly of a woman's great valor and an artist's truth, her own, far superseded, and even eclipsed, to my eye, the performance of my own play." So basically, she rocked it so hard that even the playwright was
like, 'I could never even imagine this majesty from my own fucking play.'
On December 12 th , 1968, Tallulah died of double pneumonia which was complicated by a combination of emphysema, malnutrition, and the flu.
Allegedly, her last words were a request for codeine and bourbon.
Tallulah was buried in Saint Paul's Churchyard near Chestertown, Maryland.
LEGACY
The Issac Schiffman Building where Tallulah was born is not a historic landmark and there is a marker erected to commemorate the site of her birth.
Tallulah has a star on the Hollywood Walk of Fame.
Tallulah wasn't just a phenomenal actress, but her openness with sexuality and relationships with women was revolutionary for the time. Tallulah lived her life out loud and apologized for nothing. She crafted herself into a legend and said, "I don't give a fuck what people say about me, so long as they say something."
Mercedes de Acosta
Born: March 1, 1892 or 1893    Died: May 9, 1968
What she did: American poet, playwright, novelist, and "the greatest starfucker ever."
Facts:
She was born in New York City on March 1, 1892 or 1893.Her father, Ricardo de Acosta, was born in Spain and later emigrated to Cuba, then to the United States. Her mother, Micaela Hernández de Alba y de Alba, was also Spanish and reportedly a descendant of the Spanish Dukes of Alba.
Mercedes attended elementary school at the Covenant of the Blessed Sacrement on West 79th Street in Manhattan where Dorothy Parker was a classmate.
Mercedes, along with her parents and siblings, lived in New York City on fashionable Forty-seventh Street, between Fifth and Sixth Avenues, where their neighbors included such personalities as former President Theodore Roosevelt, and the William Vanderbilts.
Mercedes's parents often took part in the genteel, social activities of the neighborhood.
Mercedes was involved in numerous lesbian relationships with Broadway's and Hollywood's elite and she did not attempt to hide her sexuality; her uncloseted existence was very rare and daring in her generation.
She was notorious for walking the streets of New York in mannish pants, pointed shoes trimmed with buckles, tricorn hat, and cape. Her chalk white face, deep-set eyes, thin red lips, and jet black hair slicked back with brilliantine prompted Tallulah Bankhead to call her Countess Dracula.
In 1916 she began an affair with actress Alla Nazimova.
In 1917, Mercedes established a long-time relationship with the famous dancer Isadora Duncan.
In spite of her desire for other women, in 1920 she contemplated marriage to Abram Poole, a wealthy portrait painter, whose family was in the Social Register. But when he proposed, she balked. "I couldn't make up my mind," she wrote. "As a matter of fact I was in a strange turmoil about world affairs, my own writing, suffrage, sex, and my inner spiritual development."
Mercedes did eventually marry Abram in 1920.They divorced in 1935. Undoubtedly contributing to her turmoil was meeting the young, attractive, and ambitious actress Eva Le Gallienne just three days before Mercedes's marriage. Soon after her honeymoon, she began a five-year romantic relationship with the actress.

While Le Gallienne toured around the country in 1922 in the play Liliom, she mailed to Mercedes 3 or 4 letters daily. Mercedes wrote two plays for Le Gallienne, Sandro Botticelli and Jehanne de Arc. After the financial failures of both plays they ended their relationship.

In the 1920s, she was a figure in both the city's "high society" and its drag clubs and speakeasies. "These were years guided by the spirit of the New," she wrote of this period; "We were on fire with fire, with a passion to create and a daring to achieve."
An early feminist, Mercedes advocated, along with her friend and lover the dancer Isadora Duncan, the elimination of uncomfortable and restricting fashions for women; while other women were lacing themselves into corsets, Mercedes was often seen wearing trousers.
Over the next decade she was involved with several famous actresses and dancers including Greta Garbo, Marlene Dietrich, Ona Munson, and Russian ballerina Tamara Platonovna Karsavina. Additional unsubstantiated rumors include affairs with Pola Negri, Eleonora Duse, Katherine Cornell, and Alice B. Toklas.
An ardent liberal, Mercedes was committed to several political causes. Concerned about the Spanish Civil War, which began in 1936, for example, she supported the Republican government that opposed the Nationalist faction.A tireless advocate for women's rights, she wrote in her memoir, "I believed…in every form of independence for women and I was…an enrolled worker for women's suffrage."
She also became a vegetarian and, out of respect for animals, refused to wear furs.
In 1931, soon after she moved to Hollywood, she met Greta Garbo. For the next 12 years, they had an unpredictable relationship. At times Garbo would shower Mercedes with flowers and gifts. Mercedes became so enamored that she pasted photos of Garbo into her Bible. They vacationed together, sunbathed in the nude, and lived together for a time in 1932.

She even convinced Garbo to visit her tailor and get a pair also, the two caused a great commotion on Hollywood Boulevard. "GARBO IN PANTS!" the headlines exclaimed. "Considering what walks down Hollywood Boulevard now," Mercedes wrote in 1960, "it seems strange that Greta and I should have caused such a sensation."

According to Acosta's longtime friend Ram Gopal, "Once Mercedes met Garbo, all she did was dream of Garbo." But Garbo was afraid of having her life exposed.
As their relationship developed, it became erratic and volatile with Garbo always in control. The two were very close sporadically and then apart for lengthy periods when Garbo, annoyed by Mercedes' obsessive behavior, coupled with her own neuroses, ignored her.
In any case, they remained friends for thirty years during which time Garbo wrote Mercedes 181 letters, cards, and telegrams. About their friendship, Cecil Beaton, who was close to both women, recorded in his 1958 memoir, "Mercedes is [Garbo's] very best friend and for 30 years has stood by her, willing to devote her life to her".
At times Garbo would shower Mercedes with flowers and gifts. Mercedes became so enamored that she pasted photos of Garbo into her Bible. They vacationed together, sunbathed in the nude, and even lived together for a time in 1932. Garbo occasionally asked Mercedes to do some shopping for her and even enlisted her aid in finding places to live, both in Hollywood and in New York.
At one point, when Garbo was being particularly aloof, Mercedes engaged in a love affair with another screen goddess: Marlene Dietrich.

Though Dietrich was married, it did not prevent her from showering Mercedes daily with bouquets of roses and carnations.
When Dietrich was setting off for Europe, she wrote, "It will be hard to leave Hollywood now that I know you." She mailed Mercedes dozens of letters and telegrams, always signing off with love and kisses and saying, "I kiss your beautiful hands and your heart."
Mercedes wrote a poem for Marlene that read:
For Marlene, Your face is lit by moonlight
breaking through your skin soft, pale, radiant.
No suntan for you glow. For you are the essence
of the stars and the moon and the mystery of the night.
After Cecil Beaton accompanied her to the theater one night in 1930, he wrote in his diary that he sensed people looking at him and questioning why he associated with "that furious lesbian." She often boasted of her sexual prowess, saying "I can get any woman from any man."
There was perhaps justification for Alice B. Toklas's observation, "Say what you will about Mercedes de Acosta, she's had the most important women of the twentieth century."

Even though these women included Isadora Duncan, Eva Le Gallienne, Greta Garbo, and Marlene Dietrich, she is usually portrayed as something of a perverse psychopath.

Mercedes published three volumes of poetry in the early 1920s, had several plays staged, and wrote various film treatments, but none of these brought her the success she sought.

In the early 1930s Mercedes developed an interest in Hinduism and was encouraged to seek out Indian mystic Meher Baba when he arrived in Hollywood.
For several years she was captivated by his philosophy and methods and he often gave her advice about ways to address her problems.
Later, she studied the philosophy of Hindu sage Ramana Maharishi who introduced her to yoga, meditation, and other spiritual practices she hoped would help ease her suffering.
In 1938, she met Hindu dancer Ram Gopal in Hollywood. They immediately established a rapport and became close lifelong friends. Later that year they traveled to India to meet Maharishi.
Mercedes immigrated to Paris, where she lived during the 1950s. By 1960, Mercedes had returned to New York, destitute and in poor health.
After a life surrounded by fame, glamour, and wealth, Mercedes spent her last years in loneliness and poverty. She suffered a variety of illnesses later in life, requiring several painful surgeries, and was forced to sell her diamonds to pay her medical bills.
In 1960, when Mercedes was seriously ill with a brain tumor and in need of money, she published her memoir, Here Lies the Heart. While the book is often considered the great lesbian "kiss-and-tell" memoir, Mercedes was careful to avoid directly specifying the sexual nature of her relationships.
But its implied homosexuality resulted in the severance of several friendships with women who felt she had betrayed their sexuality.

Garbo ended their friendship at this time, she her on the sidewalks of New York and refused to see Mercedes even when she was on her death bed.
Eva Le Gallienne in particular was furious, denouncing Mercedes as a liar and stating that she invented the stories for fame. This characterization is inaccurate since many of her affairs and relationships with women, including that with Le Gallienne, are confirmed in personal correspondence. When a friend found a gold wedding band in Eva's attic some ten years after Mercedes had died and asked what it was, Eva snatched it away, threw it down a well outside her home, and grumbled, "It was from Mercedes." If Le Gallienne was in a room and heard Mercedes name mentioned, she would storm out of the room in disgust. Le Gallienne told everyone that she thought the book should have been called "Here the Heart Lies and Lies and Lies." Le Gallienne never forgave Mercedes.
An exception to this was Marlene Dietrich, who continued to correspond with her and loved the book.
According to critic Patricia White, "If she craved being seen, MdA was more careful about what she said than she is given credit for. She wrote a name-dropping memoir, but for something attacked for exaggeration, it barely alludes to homosexuality".

 When she died in 1968 she was penniless and living in a tiny, two-room apartment in New York City. She is buried at Trinity Cemetery in New York City.

Mercedes has usually been described disparagingly, dismissed as a "notorious lesbian" who was a dishonest nuisance to her lovers and who consistently "stalked" Garbo.

Garbo's biographers, for example, assess their relationship from Garbo's perspective in which Garbo is fundamentally blameless in their difficult relationship, a perpetual victim of Mercedes's alleged irksome behavior. But Robert A. Schanke, Mercedes's recent biographer, attempts, on the basis of extensive research, to provide an accurate picture of her.
She was, Schanke acknowledges, flawed and imperfect, a complex woman who impaired several of her relationships and failed to achieve her professional and romantic aspirations. But he reveals her to have been an exceptionally lively, intelligent, and dynamic person who had many devoted friends.
She was, he argues, a brave lesbian of her times and a person of integrity who remained kind and loyal to most everyone with whom she crossed paths. He suggests that the many denigrating portrayals of her may derive from the deep homophobia of her generation.

Nevertheless, Karen Swenson, a Garbo biographer, and Schanke identified and corrected significant errors in Mercede's account. While the memoir was initially unsuccessful, it was rediscovered in the late 1960s and widely read in the underground gay community. In spite of its inaccuracies, it is now recognized as an important contribution to gay and lesbian history.
Her poetic work consists mainly of three books published during her life: Moods (prose poems) (1919), Archways of Life (1921), and Streets and Shadows (1922).
Composer Joseph Hallman memorialized Mercedes in the song cycle "Raving Beauty" for flute, harp, cello, and soprano.