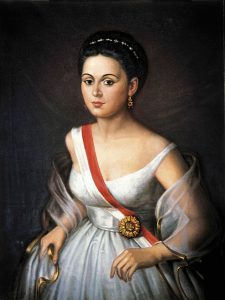 Name: Manuela Sáenz
Dates: December 27, 1797 – November 23, 1856
Manuela was born in Quito, the illegitimate child of Maria Joaquina Aizpuru and the married Spanish nobleman Simón Sáenz de Vergara y Yedra.
Her mother was abandoned by her modest family as a result of the pregnancy and young "Manuelita" went to school at the Convent of Santa Catalina where she learned to read and write.
For several years, Manuela lived with her father, where she missed church and avoided polite society in favor of riding horses and shooting pistols with her family's black servant (and lifelong best friend) Jonatas.
In 1817  it was arranged for her marriage to a wealthy English merchant, James Thorne, who was twice her age.
The couple moved to Lima, Peru, where she lived as an aristocrat and held social gatherings in her home where guests included political leaders and military officers.
When she was 26 she joined the rebels. In 1819, when Simón Bolívar took part in the successful liberation of New Granada, Manuela Sáenz was an active member in the conspiracy against the viceroy of Perú,  during 1820.
During her time with the rebels She rode with the army on harrowing journeys, including a 950 mile mountain trek that saw 700 people die or desert.
As proof she'd been there, she carried around a moustache she'd taken off a dead enemy. She wore the disembodied moustache to masquerade balls, which didn't win her a lot of friends.
She also kept a pet bear that terrified people.
In 1822, Manuela left her husband and traveled to Quito, where she met Simón Bolívar they become romantically involved.
She exchanged love letters with him, and visited him while he moved from one country to another.
Bolivar referred to her as la amable, the dear madwoman or gentle, crazy woman thought she became his favorite mistress.
Manuela supported the revolutionary cause by gathering information, distributing leaflets, and protesting for women's rights.
As one of the most prominent female figures of the wars for independence, Manuela received the Order of the Sun, honoring her services in the revolution.
The first time Manuela saved her lovers life was at a masquerade ball to which she'd not been invited. She caught wind that Bolívar was to be assassinated at midnight , and went to the ball – in her mustache I'm guessing.
She threw such a fit at not being allowed in that Bolívar had to escort her home. Thus was the attempt on his life thwarted and her reputation further complicated
On September 25, 1828, mutinous officers attempted to assassinate Bolívar. Woken by the sound of fighting, Bolivar's instinct was to investigate but Manuela who was sharing his bed persuaded him to leave via a window, while she confronted the intruders.
She then convinced them that Bolivar was somewhere in the building and she then proceeded to lead them to different rooms, pretending to lose her way and even stopping to attend one of the wounded. Eventually the would-be assassins lost patience and beat her before departing. beat her with the flat of the sword. She was laid up in bed for two weeks. Bolívar survived , and told the newspapers that he'd escaped all on his lonesome, after fighting off a number of his assailants. Her actions caused Bolivar to later call her "Libertadora del Libertador".
Bolívar left Bogotá in 1830 and died in Santa Marta from tuberculosis while he was in transit, leaving the country to exile. After he died, Manuela got a poisonous snake to bite her, like Cleopatra. Unlike Cleopatra, though, she survived.
Francisco de Paula Santander, who returned to power after Bolívar's death then exiled Manuela. She went to Jamaica for the early years of her exile. She remained politically active until the mid-1840s before becoming disillusioned.
When she attempted to return to Ecuador in 1835, the Ecuadorian president, Vicente Rocafuerte, revoked her passport. She then took refuge in northern Peru, living in the small coastal town of Paita.
She descended into poverty and for the next twenty-five years, a destitute outcast, Manuela sold tobacco and translated letters for North American whale hunters who wrote to their lovers in Latin America.
In 1847, her husband was murdered in Pativilca.
Disabled after the stairs in her home collapsed, Manuela died in Paita, on November 23, 1856, during a diphtheria epidemic. Her body was buried in a communal, mass grave and her belongings were burned. The items that did survive, personal letters and artifacts, contributed later to the legacy of both her and Simon Bolívar.
On July 5, 2010, Manuela Sáenz was given a full state burial in Venezuela. Because she had been buried in a mass grave, no official remains of her existed for the state burial; instead, "symbolic remains", composed of some soil from the mass grave into which she was buried during the epidemic, were transported through Peru, Ecuador and Colombia to Venezuela. Those remains were laid in the National Pantheon of Venezuela where those of Bolívar are also memorialized.
Legashe
Alfonso Rumazo's novel was especially poignant for its ideas of Pan-American Nationalism that were represented through Manuela's participation within the wars of independence.
Manuela became increasingly popular with radical Latin American feminist groups subsequently, her image was commonly used as a rallying point for Indo-Latina causes of the 1980s.
The popular image of Manuela riding horseback in men's clothing, popularized by her portrayal in The General in His Labyrinth, was re-enacted by female demonstrators in Ecuador in 1998.
On May 25, 2007 the Ecuadorian government symbolically gave Manuela the rank of General.
The Museo Manuela Sáenz is a museum in Old Town, Quito, that contains personal effects from both Sáenz and Bolívar to "[safeguard] the memories of Manuela Saenz, Quito's illustrious daughter".